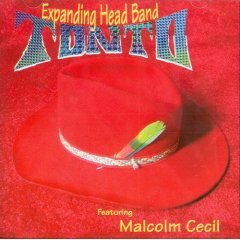 SORRY, COLLECTOR'S LIMITED EDITION CD
NO LONGER AVAILABLE
The CD contains all the tracks previously released on CD as 'TONTO Rides Again' (now out of print)
plus a never before released bonus track "BITTERSWEET"
(The "TONTO Rides Again" CD had all tracks from the LPs "Zerotime" and "It's About Time" except "Beautiful You")
These tracks have been remastered from the original analog master tapes by Malcolm Cecil
This is the best TONTO has sounded - EVER!
TONTO's Expanding Head Band were an influential electronic music duo from the 1970s, despite releasing a relatively small number of albums. The project was conceived by two Grammy-winning musicians and sound designers: Malcolm Cecil and Robert Margouleff.
The TONTO synthesizer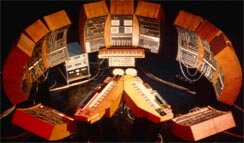 Synthesizers are so pervasive an element in popular music of all types today that it's easy to forget what a novelty they were only 25 years ago. TONTO is an acronym for "The Original New Timbral Orchestra": the world's first (and still the largest) multitimbral polyphonic analog synthesizer, designed and constructed by Malcolm Cecil. Its warm, rich timbres were particularly noteworthy and still cannot be recreated by the current breed of MIDI digital synthesizers and samplers.
TONTO began life as a series III Moog modular synthesizer. A second Moog III was added in 1971 and TONTO continued to expand with various custom built as well as standard modules (somewhat modified) from many synthesizer manufacturers including Serge with Moog-like panels, Oberheim, Arp 2500/2600, EMS, Roland, Yamaha, etc. In the mid 1990's TONTO resided at Mutato Muzika studios the headquarters of Mark Mothersbaugh and Devo which is the basis of the widespread rumour that Mark had aquired TONTO. Actually it has been in the private ownership of Malcolm Cecil since 1975 when Robert left the Head Band to persue his career as a producer. Currently TONTO is alive and well and resides in its own studio in upstate New York close to Woodstock.
TONTO's influence
Tonto's Expanding Head Band's first recording, the album "Zero Time", was released in 1971 and attracted the attention of many leading artists of that era because of the unique, warm, musical sounds that TONTO was capable of generating. Chief among those artists was Stevie Wonder whose involvement with TONTO started with "Music of My Mind" and continued through "Talking Book", "Innervisions", "Fulfillingness' First Finale" and the Spike Lee movie "Jungle Fever", all projects which featured Margouleff and Cecil as associate producers, engineers and programmers.
Writing in Keyboard Magazine in 1984, John Dilberto asserted that "... this collaboration changed the perspectives of black pop music as much as The Beatles' Sgt. Pepper altered the concept of white rock". Indeed, the remainder of the 70s and 80s featured TONTO on albums from Quincy Jones, Bobby Womack, The Isley Brothers, Gil Scott-Heron and Weather Report, as well as releases from Steve Stills, The Doobie Brothers, Dave Mason, Little Feat and Joan Baez, among others.
TONTO was also used in the movie "Phantom of the Paradise" (1974). The band's second album "It's About Time" was released in 1975.
Riding again in the 1990s
In 1996, the album "Tonto Rides Again" was released, featuring all of the "Zero Time" tracks in addition to seven additional unavailable tracks (including those from "It's About Time"). To coincide with the release, Mark Mothersbaugh (of Devo) said the following:
Once upon a time, Tonto represented the cutting edge of artificial intelligence in the world of music - Robert and Malcolm are the mad chefs of aural cuisine with beefy tones and cheesy timbres, making brain chili for those brave enough and hungry enough. Consequently, back in the cultural wasteland of the Midwest, the release of Tonto's Expanding Head Band was an inspirational indicator for starving Spudboys who had grown tired of the soup du jour. It was official - noise was now Muzak, and Muzak was now noise. So with Tonto "riding again" and the orb-of-sound resurrected, expect a healing. The masses are asses who need Tonto's glasses. Lookout, here comes Tonto!
Stevie Wonder said:
How great it is at a time when technology and the science of music is at its highest point of evolution, to have the reintroduction of two of the most prominent forefathers in this music be heard again. It can be said of this work that it parallels with good wine. As it ages it only gets better with time. A toast to greatness... a toast to Zero Time... forever.
Virtual TONTO Live
Malcom Cecil and his son, DJ Moonpup, brought TONTO's Expanding Head Band to the live arena performing at the Big Chill Festival on Saturday, August 5th, 2006 at 9:30 PM the Sanctuary stage. The festival was a 3 day affair held at Eastnor Castle in Herefordshire, about 2 1/2 hrs drive north west of London. TONTO was not actually there - it's way too big and expensive to ship for a one hour performance - Malcolm Cecil created a "Virtual TONTO" and played live over pre recorded backing tracks with a specially prepared visual show with hundreds of pics of TONTO and Poli Cecil's art pieces. The performance was enthusiasticly received by an audience of over 3,0000 fans. /p>
Further reading....